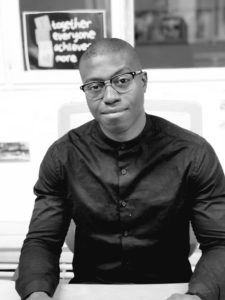 Prince OBONGO-ANGA, Business Engineer for SolOne Engineering Solutions.
Can you please introduce yourself, as well as your role within SolOne ?
I am 28 years old and I hold a BTS CRCI (Design and Realization in Industrial Boilermaking) as well as several formations related to buildings.
I started as a Designer at SolOne. After a few months, I expressed my wish to evolve on functions related to Project Management.
I have a strong taste for entrepreneurship and I want to develop my business in the medium term.
My SolOne managers believed in my abilities and we agreed to train as Business Engineer, to consider later, depending on the success, an association.
As Business Engineer, my role is to technically qualify the needs of our customers, and provide them with relevant technical and commercial solutions.
I intervene in transverse on the three offers proposed by SolOne: engineering studies, technical assistance, and the specialized recruitment.
Why apply as a candidate for SolOne according to you?
SolOne was a great opportunity for me; SolOne gave me a chance and allowed me to evolve according to my expectations.
What really appealed to me at SolOne is that we work in a Network, and each one has the opportunity to work on ambitious and innovative projects while following his career plan.
Success is collective, and good mood is dominant!
Which positions are currently opened as part of your activity?
As part of my activity, several positions are currently vacant, we are looking for skills on the softwares TEKLA, CADWorx, Revit, Solidworks, or Inventor to expand the offer of our Engineering firm.
As part of our support for Recruitment, I am also looking for numerous talents: Electrical Engineers, Mechanical engineers, maintenance technicians …. There are many requests and there is no need to hesitate to contact me.
Each candidate is also my client and our networking allows me to propose spontaneously profiles that I consider relevant to integrate the teams of my clients.