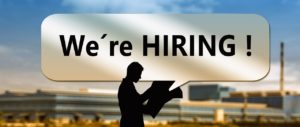 Dear network,
With the beautiful days come also new projects! SolOne opens several positions to support the growth of our clusters:
IDF Location:
– Process engineer oil & gas M/W,
– Electrical Engineer, responsible for the strong power structure group: HV / LV and M/W subway traction,
– Operation Manager / Civil Engineering Engineer M/W  (Grand Paris project),
– Sales Engineer M/W,
– Technician schematic design office 2D M/W (2 positions).
Location Occitanie:
– AutoCAD designer  M/W (nuclear),
– MS Project Planner M/W  (Nuclear),
– Project Manager M/W (Nuclear),
– Engineer mechanical studies M/W (massive parts – nuclear).
Contact : careers@solone-engineering.com